The Coinbase platform, founded in June 2012 by Brian Armstrong and Fred Ehrsam, is a cryptocurrency exchange platform for buying, selling, and storing bitcoins, ether and litecoin. In 2016, Coinbase reaches second place in Richtopia's ranking of the 100 most influential organizations about blockchain. In May 2017, the platform reaches a record number of more than 7,400,000 users in 190 countries. Its streamlined interface and fast payment methods (including credit card payments) make Coinbase one of the most accessible platforms for beginners.
The exchange has never been hacked and guarantees its users' funds up to a certain amount close to €10,000. For these reasons, we recommend Coinbase for the purchase of Bitcoins and Cryptocurrency. In this tutorial, you will discover how to create your Coinbase account, how to buy your first bitcoins, and how to use the exchange!
FrenchRandomGuy's Grade
Coinbase (5/5)
Coinbase is a reputable, secure, and easy to use platform. It is the world's most popular site for buying and selling bitcoins, ethers, and litecoins. By using the link below you will get a $10 bonus for buying your first Bitcoins.
💡 If you're new to Bitcoin, we suggest you start by reading our Complete Blockchain & Cryptocurrencies guide. It will help you better understand the world of Cryptocurrency and help you choose the most suitable platform for your needs .
Register on Coinbase
Securing your Coinbase account with Two-Factor Authentication (2FA)
Buy Bitcoin or altcoins on Coinbase
Download and use the Coinbase mobile application
Transfer your funds from Coinbase to another platform
Withdraw your money from Coinbase
Store your crypto in Coinbase's wallet
Earn Cryptos with Coinbase Earn
Let's start the Coinbase tutorial by creating an account by clicking on the image below:
By registering with the link above, you will get $10 of free bitcoins for every $100 of bitcoins purchased. Isn't life beautiful? 🙂
The Coinbase bonus also works if you buy Ethereum, Litecoin, or Bitcoin Cash.
Registration is quite simple, you will be invited to fill in the fields below:
Once this step has been validated, you will receive an e-mail containing a link. Click on this link to verify your e-mail address. You will then be able to continue the registration process. You will need to enter your phone number and fill in the verification code that you will receive by SMS.
Coinbase will require your personal information such as the following:
Coinbase will then proceed to verify the information you filled by asking you to upload an identification paper.
You can upload those documents from your computer's webcam or your smartphone (you will receive a link by SMS).
⚠ If the photo you take of your ID is not of good quality, the validation of your identity will fail. After several failures, your account will be blocked for 24 hours.
Secure your Coinbase account with Two-Factor Authentication (2FA)
What is two-factor authentication (2FA)? The principle of two-factor authentication is simple: instead of logging in to your account using only the password, the connection is based on two factors: the password first, then a unique and temporary code generated by an application on your smartphone.
By relying on something you know (the password) plus something you own (the smartphone), you drastically reduce the possibility of having your account stolen. If someone retrieves your credentials, they will also need your smartphone to log in to your account.
Google Authenticator is the most used application on mobile to manage your codes. It is available on iOS and Android and works the same way on both platforms. Start by installing the Google Authenticator application on your smartphone.
Google Authenticator Logo
Click on one of the buttons below to download Google Authenticator on Android or iOS :
Is the application installed on your smartphone? Great, let's go to the next step. Go back to Coinbase, in the Settings section of your account, then click on Security.
Click Enable Authentication Application. You will then see a QR code AND a 16-character Google Authenticator secret code appear on the screen.
⚠ Warning, this code is your recovery key (2FA backup key). Write this code down somewhere and keep it in a safe place. You will need this secret code to access your account if you lose your smartphone and thus your access to Google Authenticator. Feel free to make several physical and digital copies.
You can now open your Google Authenticator application and click on the small ➕ to scan the Coinbase QR code. That's it. Your 2FA code (double authentication) now appears on your application. You must now enter the 2FA code on Coinbase that appears on Google Authenticator to finalize the activation.
Congratulations 🎉 
Your account is now secure with Two-Factor authentication. The code generated by the application will be requested at each login attempt. We can now move on to the next step: buying your first Bitcoins!
💡 If you forgot to register your 2FA (double authentication) recovery code, don't panic! Click on Settings > Security > Generate Secret Key again. On the other hand, if you have lost your phone as well as your 2FA rescue key, you must contact the Coinbase support to try to recover access to your account.
Buy Bitcoins or Altcoins on Coinbase
First of all, I will show you how to create your Bitcoin address. Go Settings > Crypto Addresses then select Bitcoin and click on ➕ Create a new address. As you can see, you can also create an Ethereum address or any other altcoin address listed on Coinbase.
Now that your address has been created, let's move on to buying Bitcoins. Coinbase allows you to choose between two methods:
By credit card
Terms: Only Visa, Mastercard and Maestro cards with 3D Secure authentication support are accepted.
Fee: 3.99% per transaction
Deadlines: Bitcoins are received immediately after purchase.
Ceilings: deposits limited to 500€ per week
By bank transfer (SEPA)
Prerequisite: contact your bank to activate bank transfers.
Fee: Free to 1.49% per transaction – info
Delays: 4-5 days for the first deposit
Ceilings: deposits limited to 9000€ per week
Download and use the Coinbase mobile application
Coinbase has its own mobile application available on iOS and Android. On the application, you will be able to buy and sell Bitcoins, send Bitcoins to another wallet, access your wallet, view your transaction history and set up alerts to be notified of changes in the BTC or ETH price.
Transfer your funds from Coinbase to another platform
In this part, I will explain how to transfer your bitcoins from Coinbase to Binance. You'll see, it's elementary! And once you've understood the principle, you'll be able to send any cryptocurrency on any platform! To send your Bitcoins from Coinbase, there are two methods available to you: the Coinbase website or the Coinbase mobile application. Shall we go? 🙂
Select the category that suits you best 😉
Coinbase is mostly a platform where you will be able to purchase cryptocurrencies with fiat money. However, Coinbase fees are not suitable for a trading activity. We recommend you to transfer your funds to Coinbase pro or any other crypto-to-crypto exchange.
To transfer your Bitcoins to another platform, you must first have an account elsewhere, of course. In this example, I will assume that you already have an account on Binance, if not, you can read our Binance Tutorial. You need to log in to Binance and click on Wallet > Fiat & Spot Wallet in the top right menu.
Then, on the BTC (Bitcoin) raw, you need to select Deposit.
The following window should appear and contain your BTC Address from Binance. Copy this address.
Log in back on Coinbase and click on Send. Select Bitcoin (BTC) and copy the BTC address from your Binance wallet. Then you can fill the amount you want to send to yourself.
All you have to do is click on Continue to send your bitcoins from Coinbase to Binance.
This part is still under construction
Withdraw your money from Coinbase
In this part, I will explain how to withdraw the funds you have on Coinbase and thus turn Bitcoin into dollars (or any fiat money). This will happen in two steps: first, you will have to sell your Bitcoins at the market price (against dollars) and then transfer your dollars to your bank account.
Do you want to withdraw the money you have on Coinbase and put it into your bank account? Follow these two steps.
First step: selling your Bitcoins
Login to Coinbase and click on Trade, then Sell.
You will then be redirected to the page below, click on the Sell tab. In my case, you will notice that I want to sell bitcoins from my BTC Wallet to get euros on my EUR Wallet. If you have any other cryptocurrencies, you just have to switch from BTC to the cryptocurrency of your choice.
💡 For a sale of less than 200€, the fees are quite high on Coinbase.
You will then have to confirm the transaction. Once it is confirmed, you will receive a message.
Second step: Transfer your money to your bank account
You have just exchanged your Bitcoins for Euros, now let's look at how to withdraw this money from your bank account 🙂 Start by clicking on Portfolio.
Then, scroll down to your fiat Wallet (for me EUR wallet) and click on it.
You will find a new page with your transaction history on the left, and the Deposit/Withdraw tab on the right.
If the tab is not active, click on Withdraw. Then, you need to fill in the amount you want to withdraw and click on Continue.
You can then choose the bank account to which you want the money to be transferred. Please note that now, you can also chose to withdraw your money with Paypal.
If no bank account is registered, read this section:
If you have deposited your funds by Credit Card, your bank account is not known to Coinbase and you will have to register it before withdrawing your funds. Click on "Add a bank account".
Then you must click on Bank Account, and you need to follow the instructions from Coinbase. Fill in your bank account information and click Verify. You will then need to make a small transfer (€1) to Coinbase's bank account in Estonia, making sure to include the reference number in the wording of your transfer.
Fill in the amount you wish to withdraw and click on Continue.
A summary is displayed, it takes about 3-4 working days for the transfer to be made. As you can see, bank charges of 0.15€ are applied.
You will also receive an email with a summary of your transaction.
Store your crypto in Coinbase's wallet
Here are the main features of the Coinbase safe:
2-factor verification: the 2FA verification code available on your smartphone will be required to make a withdrawal.
Deferred Withdrawals: Withdrawals from your safe can be canceled for a period of 48 hours. The transfer will be made at the end of the waiting period.
Multiple Approvers: Joint accounts can be used for additional security, requiring multiple approvers to initiate a withdrawal. Each co-signer will receive a request for approval by email.
Offline storage: 98% of digital currency is stored completely offline in geographically dispersed physical vaults.
Please note that your vault can only contain one type of cryptocurrency. If you want to store bitcoins and ethers you will therefore have to create 2 vaults: one to store BTC and one to store ETH.
To create your bitcoin vault, click on this link: Coinbase Vault then click on Create your vault.
Earn Cryptos with Coinbase Earn
The Coinbase platform has launched a paid cryptocurrency training program. This program called "Coinbase Earn" allows you to obtain free tokens by simply viewing educational and instructional content on the relevant cryptocurrency.
Coinbase Earn pays you in 3 steps:
Step 1. You watch a video of about 2 minutes.
Step 2. After each video, you must answer correctly to a multiple-choice question (knowing that the correct answer is given in the video you just watched).
Step 3. You will immediately receive the program tokens.
Example with the first video of the EOS program on Coinbase Earn
Step 1. You are made to watch this learning video about EOS :
Step 2. You are asked this multiple-choice question: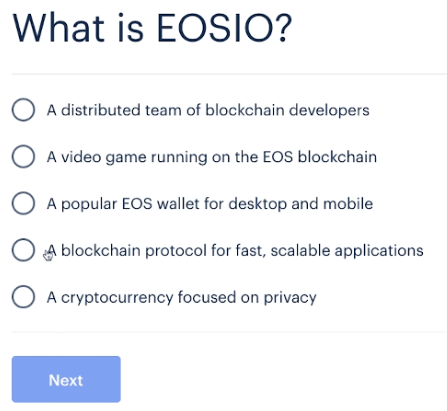 Step 3. You immediately receive the equivalent of $2 per question in EOS chips in your Coinbase account.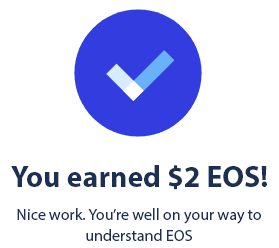 Which cryptocurrencies can be earned on Coinbase Earn?