Ripple is a company using the blockchain technology. They have developed an asset exchange system in the form of IOU (I Owe You) and value (the XRP token).
According to Ripple's website, this system allows faster transactions – nearly 1,500 per second – but requires much greater trust between the different system players, which calls into question the decentralization feature. We will see why.
The number of tokens currently in circulation is 40 billion (circulating supply). However, this is not even half of the total tokens, which equals more than 99 billion (total supply).
This can be extremely frightening because billions of tokens could be spilled at once, causing the price of XRP to drop sharply.
To explain in a little more detail, here is the distribution of XRP tokens:
Tokens in circulation (distributed): about 39 billion

Owned by the Ripple Company: approximately $6 billion

Stored in escrow: approximately 55 billion
Escrow is a system using a trusted third party. The latter knows the conditions that lead to the distribution of new tokens. Thus it keeps the tokens until the conditions are met for distributing new tokens.
In the case of Ripple, the conditions for distributing new tokens via this system are unclear.
Another point of concern is the "decentralization" of Ripple. It is decentralized because of its protocol; however, only a few actors (validators) operate on the network. Ripple company chooses them. Thus the system is not or no longer decentralized. These validators are large companies (banks…) or research institutes such as MIT. Some individuals may also be validators.
These validators must follow the rules defined by Ripple and its rule book.
XRP does have its own blockchain explorer, and alternative metrics can be found there.
You can monitor the number of transactions and payments executed and many others.
What is the use of Ripple (XRP)?
Ripple's solution is a service that allows the transfer of all types of assets around the world (currency, gold, oil, etc.) in the form of IOUs. IOUs are tokens that represent the asset in question for the transaction time and can be quickly sent just like XRPs on the platform.
In this system, the IOU receiver must have confidence in the sender and exchange the IOU for the asset it represents. Therefore, the sender entity needs to be known and reputable to take place without fear. This is why financial institutions are interested in Ripple's solution as an alternative to the SWIFT system for their international bank transfers.
It is an interesting system in case the two entities know each other. In the case of two individuals, the uncertainties are already much greater. But Ripple has never stated that its solutions are intended for the general public for peer-to-peer transfer. Besides, what is the XRP token for in all this?
Xcurrent and Xrapid: two solutions to be well understood
Ripple has developed two main solutions that use different protocols called Xcurrent and Xrapid :
Xcurrent allows the exchange of IOUs via RippleNet. This is the most interesting solution for institutions because it allows sending IOUs at a lower cost (a few fractions of XRP).
Xrapid puts the XRP token in the table's center, with the asset serving as a bridge. For example, suppose a Spanish bank A wants to send €10M to a Peruvian bank B. In that case, the latter will first convert the €10M into XRP from "liquidity providers", send the XRP in a few seconds. The receiving bank will exchange these XRP from other "liquidity providers" for €10M in Peruvian soil. This system will have to reach a certain inflection point before being really effective. The problem of XRP volatility may indeed be an obstacle to the use of this process. However, since the transfer to XRP lasts only a few seconds, problems related to volatility remain unlikely, especially if the market is sufficiently capitalized.
Those who invest in the XRP token are therefore speculating about using the Xrapid system on a large scale.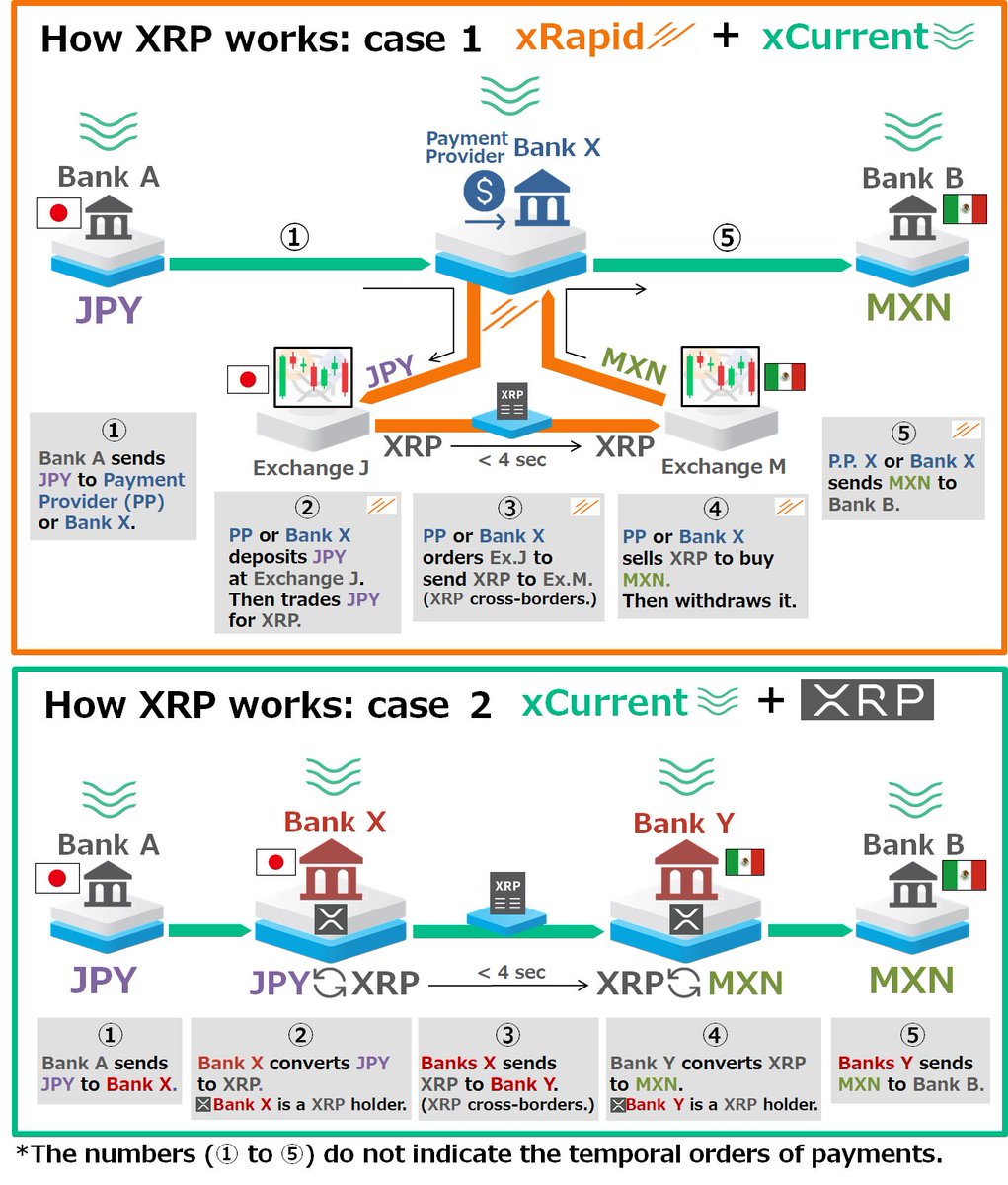 Another solution is xVia. The solution is aimed at businesses, payment services, and financial institutions that send payments via many different methods. xVia is an API that does not require any installation to send payments transparently with much information such as invoices.
Who is behind Ripple (XRP)?
Jed McCaleb is an emblematic person in the world of crypto-currency. He is what we call a serial entrepreneur. He has been behind many successful projects such as eDonkey2000, Mt. Gox, Ripple, and Stellar.
In 2011, Jed McCaleb developed a digital currency that would later be known as Ripple. It was a revolution because the protocol was different from the one used by Bitcoin, an asset created two years earlier and which was already revolutionary in itself.
He continued to be involved in developing the project and the improvement of network security until his resignation in July 2013. He then recruited Chris Larsen, who had already proven to be a great entrepreneur, and between the two of them, they convinced Jesse Powell (CEO of Kraken) to invest $100,000 in the project. Once this team of experts was assembled, McCaleb, Larsen, and Powell negotiated with Fugger, who agreed to control Ripplepay. McCaleb and Larsen then co-founded OpenCoin in 2012 and began to develop cryptography.
On September 26, 2013, OpenCoin officially changed its name to Ripple Labs, Inc. Their Chief Technology Officer, Stefan Thomas, further announces that the source code for the peer-to-peer nodes behind the Ripple payment network officially becomes open source. Parts of Ripple, particularly a JavaScript-based web client, had been made open source several months earlier, but the release of Rippled as a peer-to-peer "full node" meant that the community now had the tools required to maintain the Ripple network itself.
In April 2015, Brad Garlinghouse joined Ripple as COO, reporting to the CEO and co-founder Chris Larsen. He was promoted to CEO in December 2016
Ripple (XRP), the "bank cryptocurrency" we love to hate
Ripple suffers the consequences of a certain misunderstanding of its operation, even on the occasion of a frank hostility! Indeed, many as not constituting a "real" cryptocurrency, despite its solid 4th place in the crypto market, it is very often qualified as "bank money".
However, for a large part of the crypto community, banks are the most tangible form of a "system" to be brought down. As such, Ripple is seen as the embodiment of a form of treachery to the "cause". Moreover, its centralization and the control of huge amounts of assets by the parent company also contravene the definition of what an "ideal cryptocurrency" should be.
Thus, if one wants to compare Ripple and Bitcoin, a distinction must already be made between their basic ambitions. Bitcoin plans to create an alternative to the traditional payment system. Bitcoin wants to allow the exchange of values in a peer-to-peer system, without intermediation, posing as a breakthrough solution compared to traditional systems.
On the other hand, Ripple has never concealed its desire to deal with the traditional players in the global financial transaction system. Consequently, if Ripple is also blockchain-oriented and, therefore a system that remains relatively decentralized, it is likely to be adopted massively by institutional banking players…unlike Bitcoin.
Moreover, it must be said that Ripple is not a project designed to replace fiat currencies in the purchase of goods online, which is one of the goals of Bitcoin.
Where can we get Ripple (XRP)?